Carlton Landing is the perfect destination for residents from Oklahoma City, Tulsa, Arkansas or North Texas looking for a quiet getaway only a few hours from home. Situated on the largest lake in Oklahoma, Lake Eufaula provides a perfect backdrop for a weekend escape.
The same planning and urban design firm responsible for the world-class design of Rosemary Beach and Seaside, Florida also designed Carlton Landing; resulting in walkable streets, beautiful scenery and the appeal of a charming, cozy lake town.
Explore these 10 reasons why you'll want to book a summer stay!
Top 10 Reasons to Stay at Carlton Landing
1. An easy change of scenery
A change of scenery tops the list, with more than 100,000 acres of surface area and 600 miles of shoreline, this magnificent body of water has attracted boaters, fishermen, and water sports enthusiasts for more than 50 years. The lake's shoreline is noted for dramatic rock outcroppings and wooded inlets populated by abundant wildlife.
Visitors often comment that they feel as if they have stepped back to a more simple time when neighbors gathered on porches and life seemed to roll along at a slower pace.
2. Skip the airport
Carlton Landing is located 20 miles south of Interstate 40 East of Oklahoma City and West of Ft. Smith Arkansas along HWY 69 South of Tulsa and North of the Dallas metro area. This location and proximity to major highways attracts vacationers from Arkansas, Northern Texas, Central and Eastern Oklahoma.
Oklahoma City – 2 hours by car
Tulsa – 1.5 hours by car
Dallas – 3.5 hours by car
With easy drive times like this it makes perfect sense to leave the airport security lines and take a leisurely drive to Carlton Landing.
3. A getaway you don't have to recover from
So many times the aftermath of a vacation is reason for another vacation. Jet lag from travel, suitcases, laundry and cleaning are all waiting to resume. A weekend in the summer at Carlton Landing trades jam packed schedules with slow walks along the boardwalk and sunset boat cruises on the lake.
A weekend at Carlton Landing is one filled with nature walks, visiting our community farm, stargazing on the lawn or just enjoying a nice morning stroll with a coffee from our cafe.
When you return after a trip to Carlton Landing there is nothing to worry about except deciding when to return.
4. Photo ops galore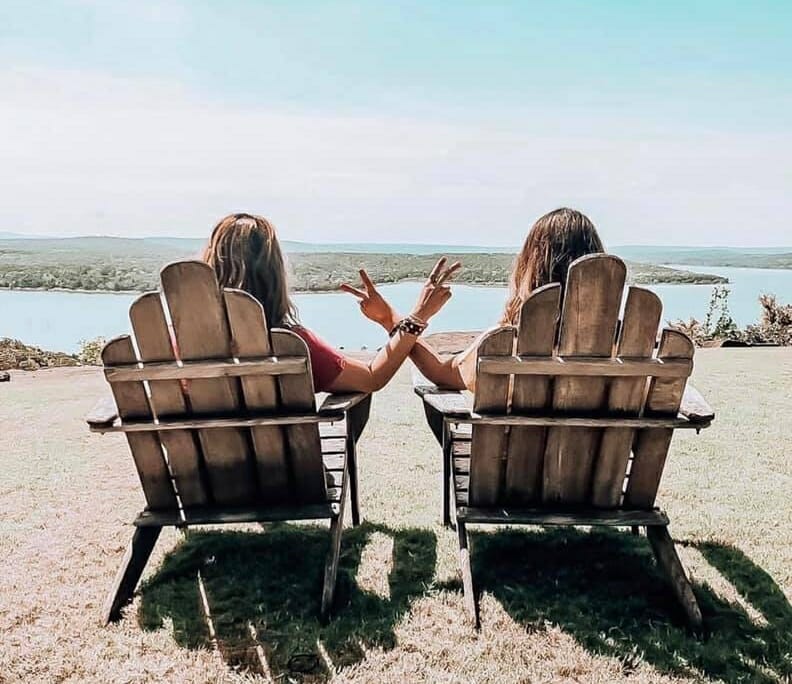 From the incredible lookout point to the urban farm and boardwalk in town, there are so many spots to snap some great pics! Whether you're looking for a dreamy pic for your Instagram post or a spot for family pics, you'll find "the perfect picture" at every turn.
The water sparkles while out boating or on a jet ski and is surrounded by untouched prairie, forests and majestic hills.
5. Always something to do
There are a wide array of events every month and the weekends are filled with choices over the summer. When you stay at Carlton Landing you can choose from art walks, concerts in the parks and even movie nights.
Setting out on an excursion does not require a plan when you are surrounded by so much beauty. It is not uncommon to find any number of natural wildlife on trails like deer, fox, squirrel, rabbit or duck.
If you are looking for an upscale evening you can book a massage or hire a private chef to create a masterpiece for your meal.
6. Cozy accommodations
Whether you're looking to stay in a cozy bungalow, a spacious cottage or a place for the entire family, you will find a variety of options from our collection of vacation home rentals. Designed to give you the most out of outdoor living, coupled with all the comforts of home, no details is missed in these homes. 
7. Water sports
Those who crave adventure and activities will find plenty to keep busy out on the water and ashore. The Boat Club takes all the heavy lifting of boat ownership and lets you reap the rewards. Boat club members get access to luxurious ski boats, pontoon boats and all the water toys and gear you will need to have fun and be safe. Water skis, tubes, wakeboards and lifejackets are all included.
The Marina rents kayaks, canoes and paddle boards during the summer months. Or you can choose to be one of the many world-class fisherman and cast your reel and see what you can bring in.
8. World Class Design
Carlton Landing was designed by Andrés Duany of Duany Plater-Zyberk, a world-renowned firm known for their work on Seaside and Rosemary Beach, Florida. Carlton Landing features an all-star cast of architects and interior designers who have applied their talents to create a built environment like no other.
Known to attract lovers of design and architecture. Carlton Landing is also love at first sight for visitors from all ages and stages of life.
9. Fun for the whole family
Families love staying at Carlton Landing. Not only are our accommodations comfortable for a family, but we have so much more to discover.
There are parks and pools located throughout Carlton Landing. When you get tired of swimming, fishing or kayaking there is a bocce ball court. The family can visit The Nature Center with outdoor exhibits and miles of trails to discover.
For the more adventurous the Carlton Landing Marina offers rentals for kayaks, canoes and paddle boards during summer visits.
10. Live the simple life
Carlton Landing is about life with more purpose, more enjoyment and more moments worthy of holding close to our heart. It's about living intentionally, discovering a new sense of community, and experiencing joy in all we do. At the heart of this simple, sustainable life is The Farm, providing proof that a sustainable life can co-exist with a progressive vision.
Your happy place is Staying at Carlton Landin
With fewer distractions and the gorgeous backdrop of Lake Eufaula, it's easy to see why so many call this their "happy place." You can stay for a day, a weekend, a month or forever. An easy drive and all of these incredible amenities make Carlton Landing the obvious choice for your next getaway.
If you are ready to see for yourself all that Carlton Landing can offer, then you can book your stay or reach out to our team.